Places to Visit in Aswan
The best places to visit in Aswan would, without question, include places like Philae Temple; the Aswan High Dam; and the Unfinished Obelisk. In fact, it could even be said that no visit to Aswan is complete without a visit to these incredible sites. Naturally, there are many other attractions to see in Aswan, including the museum and the botanical gardens, but many people would agree that Philae Temple gets to be at the very top of the list.
Find out all there is to know about the best attractions in Aswan right here on NileCruiseHolidays.com.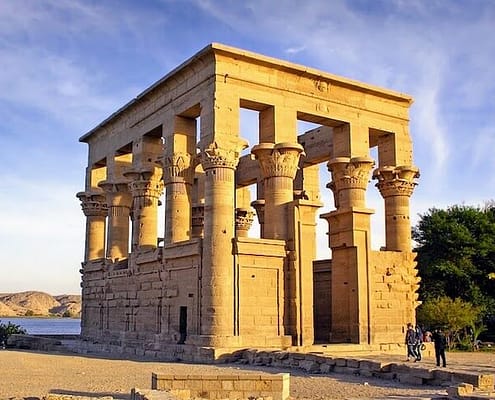 https://nilecruiseholidays.com/wp-content/uploads/2018/11/Temple-of-Philae.jpg
488
710
Nile Cruise Holidays
https://nilecruiseholidays.com/wp-content/uploads/2023/01/nile-cruise-logo-web-300x63.png
Nile Cruise Holidays
2018-11-17 16:55:00
2020-09-27 11:40:51
Temple of Philae
https://nilecruiseholidays.com/wp-content/uploads/2018/11/Unfineshed-Obelisk.jpg
480
710
Nile Cruise Holidays
https://nilecruiseholidays.com/wp-content/uploads/2023/01/nile-cruise-logo-web-300x63.png
Nile Cruise Holidays
2018-11-17 14:52:16
2020-09-27 11:42:14
Unfinished Obelisk
https://nilecruiseholidays.com/wp-content/uploads/2018/09/Nubian-Village-in-Aswas.jpg
500
710
Nile Cruise Holidays
https://nilecruiseholidays.com/wp-content/uploads/2023/01/nile-cruise-logo-web-300x63.png
Nile Cruise Holidays
2018-09-14 09:03:38
2023-02-02 14:42:23
Nubian Village in Aswan
The Best Places to Visit in Aswan
In this post, we will be taking a look at some of the best places to visit in Aswan. It would be impractical to try and discuss every attraction in and around Aswan, so we will only be looking at what we believe to be the best Aswan tourist attractions. Some of the attractions which you will read about further down the page, tend to feature in virtually all of our high quality Nile cruise holidays, while others do not, but that does not necessarily mean that you cannot visit any of the ones which aren't featured if you book one of our tour packages.
At NileCruiseHolidays.com, also offer customized Nile cruise packages which can be customized and tweaked to suite the exact needs of our clients. The only part of our cruise packages which cannot really be customized, are the actual cruises because it is the cruise ship operators who decide where their vessels do or do not dock. However, if you want to visit any attraction in or around Aswan which are not currently featured in your preferred Nile cruise itinerary, we can customize that itinerary for you so that it does include a visit to any and all Aswan attractions on your bucket list, either before cruise embarkation, or after disembarkation.
Featured Places to Visit in Aswan
Featured places to visit in Aswan are those attractions which you are likely to see in several, if not all of our Nile cruise packages, including our multi-destination tours such as our Egypt and Jordan tours or our Egypt and Morocco tour packages. Generally speaking, there are 5 places to visit in Aswan that fall into this category:
The Rock Cut Temples of Abu Simbel
Dating all the way back to the 13th century BCE, the rock-cut Temples of Abu Simbel are not only one of the very best places to visit in Aswan, but instead, the site is one of the best places to visit in the whole of Egypt. These two indescribable temples are not actually located in Aswan itself, but if you visit them as part of one of our Nile cruise packages, you will visit the temples from Aswan. The site is located roughly 230 kilometers from the center of Aswan, and for this reason, it is not featured in all of our tour packages.
These two massive temples were created to serve two purposes. They were to serve as places of worship, and they were also to serve as lasting monuments for Pharaoh Ramesses the Great, as well as his wife, Queen Nefertari. Today, the Abu Simbel temples are the second-most recognizable ancient site in Egypt.
The Ancient Temple of Philae
As with the Abu Simbel temples, the Temple of Philae is without question one of the very top places to visit in Aswan, and it features in practically each and every one of our Nile cruise itineraries. Built between 380 BC and 690 AD, the Temple of Philae, which is also called the Temple of Isis, once stood on a different location; on an island known as Philae. When the Aswan High Dam was built, Lake Nasser got flooded, and several ancient structures disappeared beneath the surface. However, all of the very best ones were rescued and relocated to higher ground before the dam was completed.
The Temple of Philae was dedicated to the goddess Isis, and was once one of the holiest temples in Ancient Egypt before finally being abandoned during the 6th century. The site is also one of the top places to visit in Aswan after the sun goes down because there is a spectacular nightly Sound and Lights show at the site.
The Kom Ombo Temple Complex
No list of places to visit in Aswan would be complete without a mention of Kom Ombo Temple. This incredible ancient complex features in all of our Nile River cruises running between Aswan and Luxor. One of the most fascinating aspects of the temple complex is the fact that it is believed to be the one and only temple that was built for, and dedicated to two different gods during the Ptolemaic dynasty.
Although it is a single temple complex, it essentially consists of two identical halves so that each of the two gods could have their own half. In this case, one half was dedicated to Sobek the crocodile god, while the other half was dedicated to Haeroris the falcon-headed god.
The Unfinished Obelisk
While the Unfinished Obelisk might not be one of the most riveting places to visit in Aswan, it remains a very popular attraction, and one which also features in most of our Nile cruises packages. The obelisk, in its current form, is already bigger than any other obelisk ever discovered in Egypt, and had it been completed, experts have estimated that it would have been 120 feet high, and would have weighed approximately 1,200 tons.
Unlike with other obelisks, those working on this particular one attempted to carve it directly out of the granite bedrock. However, by the time they reach the stage where it is now, cracks began to appear and the project was abandoned because it was believe that the cracks were due to a flaw in the granite. These days, experts know better, and it is now clear that the cracks were a direct result of the quarrying technique that was being used at the time.
The Aswan High Dam
When it comes to more modern attractions, then the Aswan High Dam is without question one of the most impressive places to visit in Aswan. When this dam was built between 1960 and 1970, it quite literally changed the face and future of Egypt. It effectively put a stop to frequent flooding that used to decimate entire crops along the banks of the Nile. It also ensured that there would be a stable and reliable source of water for irrigation within the agricultural sector, and last but not least, installed hydroelectric motors produce a significant amount of clean and sustainable energy for the country.
Interestingly, a similar dam was already being considered by the British back in 1889. Plans back then were abandoned because building the dam would inevitably have led to the destruction of numerous ancient monuments as a result of the lake that would have formed. Finally, in the second half of the 90s, the decision was made to build the dam, and organizations from all over the world, including Egypt, set about rescuing the best ancient monuments by moving them to higher ground. With the dam finally completed, Egypt was soon home to one of the world's biggest manmade lakes, Lake Nasser.
Other Places to Visit in Aswan
Unlike the above mentioned Aswan tourist attraction which feature in most, if not all our Nile cruise packages, the ones mentioned and described below don't, but they really are still well worth visiting if you have the time.  Also, as mentioned earlier, it is possible to visit any of the sites with a customized tour package. If you would like to visit andy of these sites during your time in Egypt, simply inform one of our expert travel specialists prior to booking your tour, and we will make the necessary arrangements. Okay, let's take a look at a few more excellent places to visit in Aswan:
Lake Nasser and Lake Nasser's Timeless Monuments
If you ask some locals to recommend some good places to visit in Aswan where you can relax and unwind, or enjoy some fishing or some water sports, Lake Nasser will almost certainly be one of the recommendations you get. The lake is very popular amongst the locals in Aswan, and it really is a wonderful place to visit if you just want a relaxing day out, or a break from sightseeing. The banks of Lake Nasser are of course home to several fantastic ancient monuments, many of which are the rescued monuments mention earlier.
The best way to visit and explore these ancient monuments is via a Lake Nasser cruise. Most high quality Lake Nasser cruise packages will feature most, if not all of the best attractions to be found on the shores of the vast lake. If you would like to find out more about these monuments, be sure to read our Places to Visit in Lake Nasser page.
The Tombs of the Nobles at Qubbet El-Hawa
The Tombs of the Nobles are a collection of ancient rock-cut tombs at Qubbet El-Hawa near Aswan. They are located on the west bank of the Nile, and date back to the days of the Early Kingdom, making them some of the earliest tombs ever constructed. Several groups of similar tombs of the nobles have been discovered in other parts of the country as well, but what sets these apart from the rest is the fact that these are relatively well-preserved, and unlike many others, the Tombs of the Nobles at Qubbet El-Hawa remained intact throughout the Early Kingdom; the Middle Kingdom, and even during the New Kingdom.
Gebel El Silsila Temple and the Adjacent Quarries
Gebel El Silsila Temple is probably one of the least known historical places to visit in Aswan. The temple itself was considered impressive enough and significant enough to warrant saving it from the flooding of Lake Nasser, so one would think that it would feature in more tours than it does. However, the main reason why it is rarely frequented by tourists is its location. The site can generally only be visited by means of a Nile cruise, and both the local conditions and the law prevent the larger cruise ships from getting close.
The best way to enjoy a visit to this site is by means of Dahabiya Nile cruises. Dahabiya boats are considerably smaller than the larger cruise ships so they are able to maneuver close to the site so that passengers can enjoy unrivalled views of both the temple and the adjacent quarries. Some Dahabiyas will even dock near the site for the night, whereas passengers on the larger ships only get a fleeting glimpse as they sail by.
Daraw Camel Market
If you are looking for some truly unique places to visit in Aswan, then be sure to add the Daraw Camel Market to your list of must-see places. Egypt is of course well known for its vibrant and frenetic markets, but it is not every day that one gets to see a market dedicated entirely to the trading of camels. The Daraw Camel Market is a great place to go and see a huge amount of camels in a single area, and it can be great fun watch sellers and buyers haggling for the best possible deals.
Despite being the biggest camel market in the world, the market only opens on Tuesdays from 06h00. If you feel you would like to visit the Daraw Camel Market, you should count on your tour taking about 5 hours, which includes travel from Aswan to the market and back to Aswan.
Enjoy Aswan in True Comfort and Style
When you book your Nile cruise holiday through NileCruiseHolidays.com, you are booking through an Egypt tour operator that has been guiding travelers through Egypt and beyond ever since 1955; a company that has had more than half a century to perfect travel in Egypt and throughout the Middle East. Enjoy the best places to visit in Aswan in absolute comfort and style with a tour operator that really does put their clients first in every sense of the word.