6 Night Nile Cruises
Our carefully structured 6 Night Nile Cruises never fail to amaze. They are affordable; they are luxurious; they are incredibly enjoyable, and they can add an almost infinite amount of value to any vacation in Egypt or elsewhere in the Middle East.
7 days and 6 nights Nile River cruises may not include as much relaxation time as the longer cruises do, but you will be seeing the same wonderful attractions, and you will also be enjoying the same luxurious surroundings as you cruise the Nile in style from Aswan to Luxor or from Luxor to Aswan.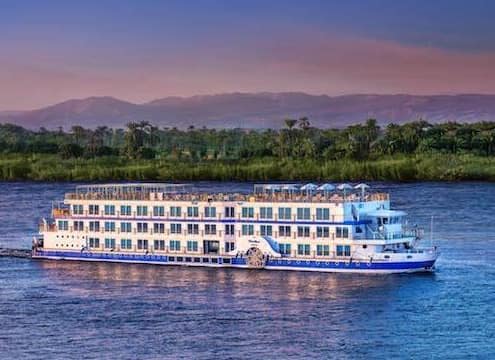 Luxury Oberoi Philae Nile cruises with guided tours. 5 and 7 day itineraries available.
https://nilecruiseholidays.com/wp-content/uploads/2018/09/Oberoi-Philae-Nile-Cruise-1.jpg
360
710
Nile Cruise Holidays
https://nilecruiseholidays.com/wp-content/uploads/2023/01/nile-cruise-logo-web-300x63.png
Nile Cruise Holidays
2018-09-02 08:21:27
2022-12-21 22:59:10
Oberoi Philae Nile Cruise
6 Night Nile Cruises Are the Best Way to Explore Ancient Egypt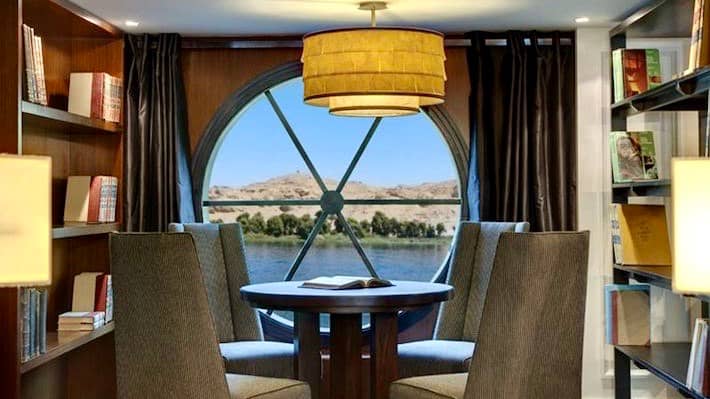 While time travel has yet to be created, 6 night Nile cruises bring you pretty close to a time machine. After all, they take you to some of the most significant and beautiful sites dating back thousands of years. Most mark the high points of what is known as pharaonic Egypt, and let you get an accurate sense of what life was like throughout that long and fascinating period.
After all, a majority of 6 night Nile cruises remain in the amazing corridor between Aswan and Luxor. Representing, roughly, the lower third of the Nile, this area is home to the ancient capital of several Pharaonic dynasties, the city of Thebes. Today, it is known as Luxor and is where the vast temple complexes of Karnak and Luxor are found, but also where the glories of the western desert are there to explore. The Valley of the Kings, the temple of Hatshepsut, Deir el-Bahri, the Colossi of Memnon, and Medinet Habu are just some sites to see.
Far south, in Aswan, 6 night Nile cruises might begin or end in this low-key and fascinating area. Home to the Aswan High Dam (with Lake Nasser spreading out for hundreds of miles beyond), it is also where visitors can explore the fascinations of the Unfinished Obelisk, Philae Temple, Kitchener's Island and much, much more.
The Sights During 6 Night Nile Cruises
Of course, it is not just the starting and ending points of 6 night Nile cruises that make them such a good choice. There is much that lies between Aswan and Luxor. Whether sailing north to south or the reverse, your journey is also quite likely to include shore excursions to:
Philae Temple – Relocated to an island (Agilikia Island) in the reservoir created by the Aswan Low Dam, it is north of the larger Aswan High Dam. Part of a temple complex, it was named by many famous ancient authors, including Ptolemy and Pliny the Elder. It dates to 362 BCE and has long been described as one of the burial sites of Osiris.
Kom Ombo – Perhaps one of the most famous temples because of its "double" design, it is a very popular stop on most 6 night Nile cruises. Travelers like to explore this site once famed for its sacred crocodiles and for its temples dedicated to Horus the Elder and Sobek the crocodile god. It is also quite famous for its carved reliefs showing medical tools – one of the only known depictions of them from the ancient world.
Edfu – One of the largest and most well-preserved of all temples in Egypt, Edfu Temple. Dedicated to Horus, it is a beautiful site. Constructed in the later era of pharaonic Egypt, dating to 237 to 57 BCE, it has stunning reliefs on the pylon and one of the few structures with an intact roof. Edfu Temple is also close to Gabal Selsela, a temple carefully relocated to protect it from the Nile's waters.
Esna – Also popular in many itineraries for 6 night Nile cruises, it is an idyllic stopping point between Luxor and the hugely famous sites of Edfu and Kom Ombo. It is also home to the stunning Temple of Khnum. This was built during the Roman period, and perhaps even a bit earlier during the final Ptolemaic period of pharaonic Egypt. It sits atop an 18th dynasty temple of Tuthmosis III, but much of this earlier structure has yet to be excavated.
As you can see, 6 night Nile cruises allow you to savor the amazing sites and scenery of Luxor and Aswan, but also of these equally appealing and renown locations. What makes 6 night Nile cruises even more appealing, though, is that they go well beyond being a form of luxury transport.
The Benefits of 6 Night Nile Cruises
While most 6 night Nile cruises rate as premium and even 5-star hotels, they are more than an opulent, floating accommodation. The best 6 night Nile cruises are all-inclusive, incorporating all of your ground transportation, entrance fees and other expenses into your booking. Typically, your meals and drinks are part of the experience, and you need only worry about spending money and tips throughout the entire adventure.
On top of all of this, many of the finest 6 night Nile cruises include knowledgeable experts on board. They may provide a few lectures in advance of your arrival at specific sites, and whether it is an Egyptologist, archaeologist, historian or author, they will also guide you through the actual sites.
For instance, your visit into the Valley of the Kings is not just going to be your group wandering from tomb to tomb. Instead, you will have an expert guide, offering up insightful comments and details on everything from carvings and reliefs to art and architecture.
The Role of 6 Night Nile Cruises During Your Visit
Naturally, for many travelers, their 6 night Nile cruises are a key component or the entire scope of a journey. However, you may opt to choose your cruise as only a portion of your adventures in Egypt. As an example, if your cruise concludes in Aswan, why not consider booking a longer Lake Nasser cruise?
That will get you to locations like famed Abu Simbel, but also many of the UNESCO sites relating to Nubian Egypt. If you finish in Luxor, you might opt for a flight to Cairo where you can book tours into the deserts west of the city to see some of the famed Oases. You could also consider a cruise from Cairo to Luxor, taking in even more amazing historical sites.
With options for luxurious wooden dahabiyas (powered by large and majestic sails) or modern cruising yachts with every possible amenity, your cruise of the Nile can be whatever you'd like it to be. Comfortable, convenient, flexible and fun, it is bound to provide you with an amazing set of memories of this stunning land. Until time travel is possible, you can find yourself easily stepping back in time when you step on board one of the luxurious Nile cruises.