Merit Dahabiya Nile Cruise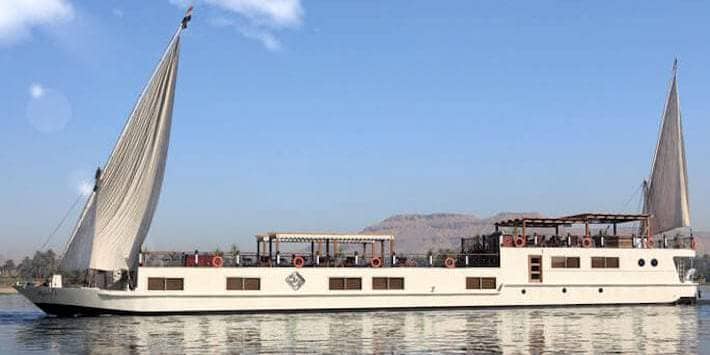 Book a Merit Dahabiya Nile cruise and enjoy a level of luxury, hospitality, and personal service which is simply non-existent on regular Nile River cruises. With only 8 luxurious cabins and 1 suite, this elegantly appointed 5-Star river yacht allows you to enjoy the Nile in spectacular style as you sail from one magnificent ancient monument to the next.
Whether you choose a 5-day cruise from Luxor to Aswan, or whether you choose an 8-day cruise that begins in Luxor and ends in Luxor, Dahabiya Nile cruises through Ancient Egypt is an experience you will cherish forever.
Phenomenal customer service
I am writing this review specifically for the amazing customer service I've received in this process of booking a Nile cruise trip through NileCruiseHolidays.com. Having never been to Egypt, I was nervous about going without being part of a larger group, and going as part of a tour seemed ideal. The reviews for this company convinced me that this was the organization to go with, and so far, they have exceeded all of my expectations. They have been incredibly fast and professional in all their communication with me. They have answered all of my questions to my satisfaction and were so helpful in arranging airport/cruise transportation. My boyfriend and I are flying in early and leaving late, and the staff, (Abdo, in particular) set up everything for us so that we didn't have to manage any reservations on our own. I'm so looking forward to the trip in January and will post another review then. As of right now, I am thrilled that I found NileCruiseHolidays.com, and I continue to be impressed at the level of customer service they offer.
Katie K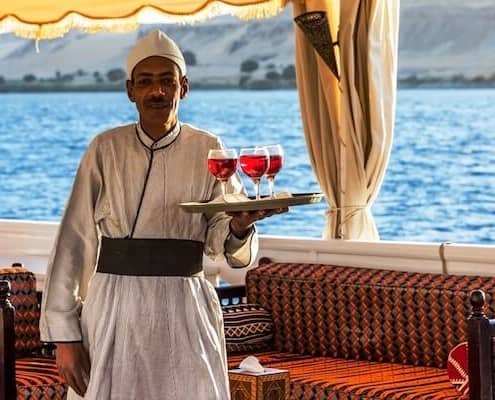 https://nilecruiseholidays.com/wp-content/uploads/2019/02/Amoura-Dahabiya-Nile-Cruise.jpeg
400
710
Nile Cruise Holidays
https://nilecruiseholidays.com/wp-content/uploads/2023/01/nile-cruise-logo-web-300x63.png
Nile Cruise Holidays
2019-02-10 17:55:20
2023-02-02 13:58:52
Amoura Dahabiya Nile Cruise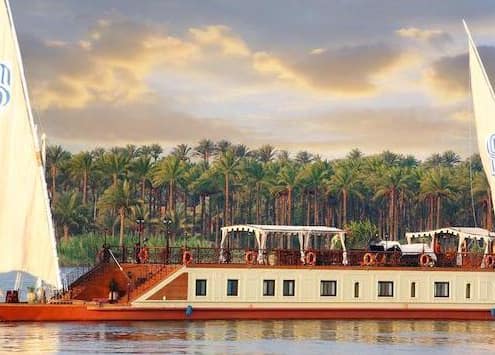 https://nilecruiseholidays.com/wp-content/uploads/2018/09/Sonesta-Amirat-Dahabiya-Nile-Cruise.jpg
355
710
Nile Cruise Holidays
https://nilecruiseholidays.com/wp-content/uploads/2023/01/nile-cruise-logo-web-300x63.png
Nile Cruise Holidays
2018-09-11 08:35:14
2023-01-03 00:19:09
Sonesta Amirat Dahabeya Nile Cruise
https://nilecruiseholidays.com/wp-content/uploads/2018/09/Princess-Donia-Dahabiya-Nile-Cruise.jpg
355
709
Nile Cruise Holidays
https://nilecruiseholidays.com/wp-content/uploads/2023/01/nile-cruise-logo-web-300x63.png
Nile Cruise Holidays
2018-09-11 08:17:39
2023-02-28 09:47:04
Princess Donia Dahabiya Nile Cruise
https://nilecruiseholidays.com/wp-content/uploads/2018/09/Nour-el-Nil-Dahabiya-Nile-Cruise.jpg
355
710
Nile Cruise Holidays
https://nilecruiseholidays.com/wp-content/uploads/2023/01/nile-cruise-logo-web-300x63.png
Nile Cruise Holidays
2018-09-10 19:28:32
2023-02-02 15:23:15
Nour el Nil Dahabiya Nile Cruise
https://mlrhpz8jmuut.i.optimole.com/w:auto/h:auto/q:mauto/https://nilecruiseholidays.com/wp-content/uploads/2018/09/Merit-Dahabiya-Nile-Cruise.jpg
355
710
Nile Cruise Holidays
https://nilecruiseholidays.com/wp-content/uploads/2023/01/nile-cruise-logo-web-300x63.png
Nile Cruise Holidays
2018-09-10 16:06:53
2023-01-02 23:38:33
Merit Dahabiya Nile Cruise