SAI Dahabiya Lake Cruise
Surrender yourself to a world of antiquity and tranquility with an enchanting SAI Dahabiya Lake Cruise. Totally unforgettable Lake Nasser cruises from Aswan to Abu Simbel, or from Abu Simbel to Aswan. Our SAI Dahabiya cruise is the perfect match for the discerning traveler who would like a more personal travel experience while visiting the very best ancient Nubian monuments that adorn the shoreline of the Lake Nasser.
Driven by the power of the wind, the SAI Dahabiya will transport you silently from one breathtaking monument to the next. Spend your days exploring an ancient world, and your nights under a star lit sky before retreating to your cabin for a blissful night's sleep on the quiet water of the lake. For an even more unforgettable experience, why not enjoy one of our epic Nile River cruises as well.
Historical Lecture Tour
I traveled with a group of 50+ and we were met at the airport by the coordinator, Islam, and for the next 8 days we were given an excellent experience. The guides Osama (Sam) and Ahmed provided meaningful historic content for each site we visited. Our trip included visiting the Giza pyramids, the Step Pyramid, flight to Luxor and a Nile cruise. On the cruise we had daily shore visits to many historic sites including the Valley of the Kings, Luxor temple, and Philae. We learned and laughed. I am grateful for the kindness shown by each. They provided excellent service with a smile.
Anitar18182018
Albuquerque, New Mexico
Similar Lake Nasser Cruises
https://nilecruiseholidays.com/wp-content/uploads/2018/09/MS-Movenpick-Abbas-Lake-Nasser-Cruise.jpg
331
710
Nile Cruise Holidays
https://nilecruiseholidays.com/wp-content/uploads/2023/01/nile-cruise-logo-web-300x63.png
Nile Cruise Holidays
2018-09-12 10:04:30
2022-12-19 08:25:07
MS Movenpick Prince Abbas Lake Nasser Cruise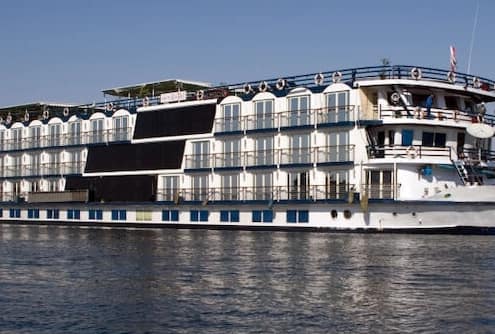 https://nilecruiseholidays.com/wp-content/uploads/2018/09/Steigenber-Omar-El-Khayam.jpg
334
709
Nile Cruise Holidays
https://nilecruiseholidays.com/wp-content/uploads/2023/01/nile-cruise-logo-web-300x63.png
Nile Cruise Holidays
2018-09-12 09:42:19
2023-02-02 15:19:21
Steigenberger Omar El Khayam Lake Nasser Cruise
https://nilecruiseholidays.com/wp-content/uploads/2018/09/MS-Nubian-Sea-Lake-Nasser-Cruise.jpg
335
710
Nile Cruise Holidays
https://nilecruiseholidays.com/wp-content/uploads/2023/01/nile-cruise-logo-web-300x63.png
Nile Cruise Holidays
2018-09-11 20:09:52
2023-01-03 01:21:56
MS Nubian Sea Lake Nasser Cruise
https://mlrhpz8jmuut.i.optimole.com/w:auto/h:auto/q:mauto/https://nilecruiseholidays.com/wp-content/uploads/2018/09/MS-SAI-Dahabiya-Lake-Nasser-Cruise.png
335
710
Nile Cruise Holidays
https://nilecruiseholidays.com/wp-content/uploads/2023/01/nile-cruise-logo-web-300x63.png
Nile Cruise Holidays
2018-09-11 18:58:24
2023-01-03 00:46:40
MS SAI Dahabiya Lake Nasser Cruise