13 Day Nile Cruise From Cairo to Luxor
Follow in the footsteps of Ancient Egypt's great pharaohs with a spectacular 13-Day Nile Cruise from Cairo to Luxor. Our classic Nile cruises from Cairo are all about luxury and comfort; world class dining, and non-stop discovery from the moment you arrive.
Enjoy relaxing times in the sun; romantic moments under the stars, and marvel at some of the world's most cherished ancient relics. From the great Pyramids of Giza in Cairo, to the rock-cut tombs in the Valley of Kings in Luxor, our Nile River cruises really do have it all. Join us for a truly unforgettable journey through time.
Fabulous tour group and service!
Fabulous Organization. Seamless joy filled trip for our group of 18! Hats off to Islam, Ahmed & Sam!
Sue Ann R
Traverse City, Michigan
https://nilecruiseholidays.com/wp-content/uploads/2018/09/Nile-Cruise-From-Aswan-to-Cairo.jpeg
405
720
Nile Cruise Holidays
https://nilecruiseholidays.com/wp-content/uploads/2023/01/nile-cruise-logo-web-300x63.png
Nile Cruise Holidays
2018-09-10 15:24:15
2023-01-02 05:03:05
14 Day Nile Cruise from Aswan to Cairo – MS Darakum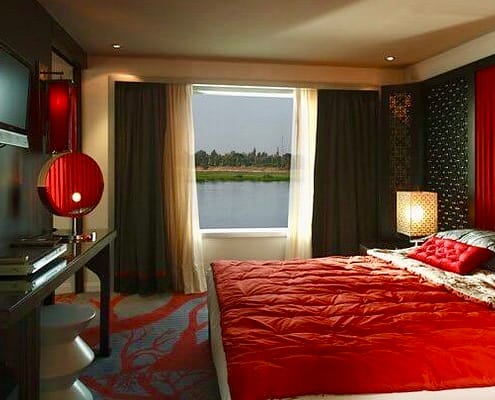 https://mlrhpz8jmuut.i.optimole.com/w:auto/h:auto/q:mauto/https://nilecruiseholidays.com/wp-content/uploads/2018/09/Nile-Cruise-from-Cairo-to-Luxor.jpeg
405
720
Nile Cruise Holidays
https://nilecruiseholidays.com/wp-content/uploads/2023/01/nile-cruise-logo-web-300x63.png
Nile Cruise Holidays
2018-09-10 15:14:43
2023-01-02 05:38:55
13 Day Nile Cruise from Cairo to Luxor – MS Darakum
https://nilecruiseholidays.com/wp-content/uploads/2018/09/Nile-Cruise-From-Luxor-to-Cairo.jpeg
398
710
Nile Cruise Holidays
https://nilecruiseholidays.com/wp-content/uploads/2023/01/nile-cruise-logo-web-300x63.png
Nile Cruise Holidays
2018-09-10 12:54:17
2023-01-02 05:49:08
11 Day Nile Cruise from Luxor to Cairo – MS Darakum
https://nilecruiseholidays.com/wp-content/uploads/2018/09/Nile-Cruise-From-Cairo-to-Aswan-e1603715208507.jpeg
399
710
Nile Cruise Holidays
https://nilecruiseholidays.com/wp-content/uploads/2023/01/nile-cruise-logo-web-300x63.png
Nile Cruise Holidays
2018-09-09 19:07:21
2023-02-02 15:30:57
15 Day Nile Cruise From Cairo to Aswan – MS Darakum