14 Day Egypt, Jordan and Israel Tours
Experience the true magic of the Middle East in comfort and style with bespoke Egypt, Jordan and Israel Tours from the world's number one certified Category "A" Egypt tour operator. With our expertly structured Nile cruise and stay packages you can enjoy the best that Cairo has to offer, including the Great Giza Pyramids; the Egyptian Museum and more. Visit the rock-cut Temples of Abu Simbel, then board a 5-Star Nile cruise from Aswan to Luxor with daily guided tours.
Head to Jordan; float on the Dead Sea, and marvel at the magic that awaits you at the Lost City of Petra. Enjoy a day trip to Jerusalem; visit the Wailing Wall; Temple Mount; Dome of the Rock and more before returning to Jordan for for one more night before your flight back home. All of our Egypt and Jordan Tours are fully customizable with lifetime memories guaranteed.
DEPARTURE SCHEDULE: Tours run every Thursday and Saturday
Phenomenal customer service
I am writing this review specifically for the amazing customer service I've received in this process of booking a Nile cruise trip through NileCruiseHolidays.com. Having never been to Egypt, I was nervous about going without being part of a larger group, and going as part of a tour seemed ideal. The reviews for this company convinced me that this was the organization to go with, and so far, they have exceeded all of my expectations. They have been incredibly fast and professional in all their communication with me. They have answered all of my questions to my satisfaction and were so helpful in arranging airport/cruise transportation. My boyfriend and I are flying in early and leaving late, and the staff, (Abdo, in particular) set up everything for us so that we didn't have to manage any reservations on our own. I'm so looking forward to the trip in January and will post another review then. As of right now, I am thrilled that I found NileCruiseHolidays.com, and I continue to be impressed at the level of customer service they offer.
Katie K
Egypt and Jordan Tours
Didn't find the Egypt and Jordan Tour you were looking for? See Egypt, Jordan and Israel Tour alternatives below.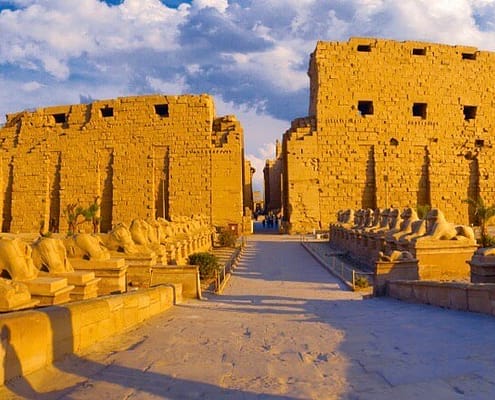 https://nilecruiseholidays.com/wp-content/uploads/2020/03/Middle-East-Tour-Karnak-Temple.jpeg
431
766
Shane Paulsen
https://mlrhpz8jmuut.i.optimole.com/-4CZkV8-alZPI4qD/w:auto/h:auto/q:mauto/https://nilecruiseholidays.com/wp-content/uploads/2020/09/website_logo_transparent_background.png
Shane Paulsen
2020-09-17 11:22:40
2021-06-18 09:46:33
23 Day Middle East Tour: Morocco, Egypt, Jordan, Dubai
https://mlrhpz8jmuut.i.optimole.com/-4CZkV8-zywFgLjE/w:auto/h:auto/q:mauto/https://nilecruiseholidays.com/wp-content/uploads/2020/03/Egypt-Jordan-and-Israel-Tours-Al-Khazneh-Petra-Jordan.jpeg
399
710
Shane Paulsen
https://mlrhpz8jmuut.i.optimole.com/-4CZkV8-alZPI4qD/w:auto/h:auto/q:mauto/https://nilecruiseholidays.com/wp-content/uploads/2020/09/website_logo_transparent_background.png
Shane Paulsen
2020-09-17 11:03:19
2021-06-18 07:38:50
14 Day Egypt, Jordan and Israel Tours
https://nilecruiseholidays.com/wp-content/uploads/2020/09/Turkey-Egypt-and-Jordan-Tours-The-Blue-Mosque-Istanbul.jpeg
400
710
Shane Paulsen
https://mlrhpz8jmuut.i.optimole.com/-4CZkV8-alZPI4qD/w:auto/h:auto/q:mauto/https://nilecruiseholidays.com/wp-content/uploads/2020/09/website_logo_transparent_background.png
Shane Paulsen
2020-09-09 04:28:17
2021-06-18 05:46:23
18 Day Turkey, Egypt and Jordan Tours
https://nilecruiseholidays.com/wp-content/uploads/2020/08/Cairo-Abu-Simbel-Jordan-Tour-Abu-Simbel-interior.jpeg
400
710
Shane Paulsen
https://mlrhpz8jmuut.i.optimole.com/-4CZkV8-alZPI4qD/w:auto/h:auto/q:mauto/https://nilecruiseholidays.com/wp-content/uploads/2020/09/website_logo_transparent_background.png
Shane Paulsen
2020-08-03 02:25:03
2021-06-25 05:30:29
11 Day Cairo, Abu Simbel and Petra Jordan Tour
https://nilecruiseholidays.com/wp-content/uploads/2018/11/Egypt-and-Jordan-Tours.jpg
474
710
Nile Cruise Holidays
https://mlrhpz8jmuut.i.optimole.com/-4CZkV8-alZPI4qD/w:auto/h:auto/q:mauto/https://nilecruiseholidays.com/wp-content/uploads/2020/09/website_logo_transparent_background.png
Nile Cruise Holidays
2018-11-14 21:44:58
2021-06-25 05:46:52
12 Day Egypt and Jordan Tour
https://nilecruiseholidays.com/wp-content/uploads/2018/11/Egypt-and-Jordan-Combined-Tour.jpeg
474
710
Nile Cruise Holidays
https://mlrhpz8jmuut.i.optimole.com/-4CZkV8-alZPI4qD/w:auto/h:auto/q:mauto/https://nilecruiseholidays.com/wp-content/uploads/2020/09/website_logo_transparent_background.png
Nile Cruise Holidays
2018-11-14 18:13:01
2021-06-25 05:27:46
10 Day Egypt and Jordan Combined Tour
https://nilecruiseholidays.com/wp-content/uploads/2018/11/Egypt-and-Jordan-Travel-Package.jpg
474
710
Nile Cruise Holidays
https://mlrhpz8jmuut.i.optimole.com/-4CZkV8-alZPI4qD/w:auto/h:auto/q:mauto/https://nilecruiseholidays.com/wp-content/uploads/2020/09/website_logo_transparent_background.png
Nile Cruise Holidays
2018-11-14 17:52:40
2021-06-25 05:28:58
14 Day Egypt and Jordan Travel Package
https://nilecruiseholidays.com/wp-content/uploads/2018/11/Egypt-Jordan-Jerusalem-Tour.jpg
472
710
Nile Cruise Holidays
https://mlrhpz8jmuut.i.optimole.com/-4CZkV8-alZPI4qD/w:auto/h:auto/q:mauto/https://nilecruiseholidays.com/wp-content/uploads/2020/09/website_logo_transparent_background.png
Nile Cruise Holidays
2018-11-13 22:48:06
2022-02-22 05:24:55
13 Day Egypt, Jordan, Jerusalem Tour
https://nilecruiseholidays.com/wp-content/uploads/2018/11/Egypt-Jordan-Morocco-Tour.jpg
474
710
Nile Cruise Holidays
https://mlrhpz8jmuut.i.optimole.com/-4CZkV8-alZPI4qD/w:auto/h:auto/q:mauto/https://nilecruiseholidays.com/wp-content/uploads/2020/09/website_logo_transparent_background.png
Nile Cruise Holidays
2018-11-10 17:35:10
2020-12-29 17:22:56
19 Day Egypt, Jordan, Morocco Tour